Grow Your Digital Presence
Having a digital marketing strategy in place is the best way to generate leads, increase brand awareness and drive revenue. That's why I offer a full range of SEO, SEM, and social media marketing services.
Regardless of whether you operate an eCommerce site or any other firm doing business online, the only way to ensure long-term growth is to maximize your marketing efforts. That's why I constantly study and apply proven digital marketing strategies and keep up with the latest trends and news.
My digital marketing expertise allows me to generate results for any industry. I can develop an effective digital marketing campaign that takes advantage of your business's most meaningful digital channels.
Digital Marketing Services for Your Online Presence
No matter what your digital marketing needs are, I have your back. With a wide range of services available, it's easy to see the value in working with me.
I provide full-service digital presence management that can handle all of your marketing needs. From SEO and online advertising to web analytics and social media management, I take care of your digital presence.
Online Marketing Madness
I offer a variety of services related to online marketing that'll help you get ahead of your competition. From search engine optimization (SEO) to online content and blogging, I have you covered.
I Take Care of Everything
I am an expert with many years of experience in the digital marketing industry. I know what it takes to reach the top spots in the search engines, how to reach your target audience on social media, and how to measure the effectiveness of your campaign.
More Than Just Web Design
I offer a range of services that are designed to help you get ahead of your competition online. With me on your side, you'll be able to create connections with potential customers while staying within your budget.
Whether you're looking for web analytics, social media marketing and listening, or email marketing, I'll handle it all for you!
Digital Marketing Services by AJ Tatum Digital

My marketing automation services can help you integrate your CRM, email marketing, and other digital channels so they work together harmoniously.

There are 3.2 billion social media users. My social media marketing (SMM) service can lead to increased search traffic, better SEO, healthier customer engagement, and improved brand loyalty.

Email marketing is a noisy & crowded space. To stand out, you need to set up the right automation, deliver quality content, and design pixel-perfect templates. I help you do all this and more with my full suite of services.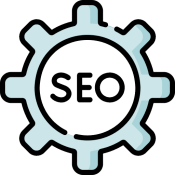 Improve your online visibility and drive qualified traffic to your site with SEO and Local SEO. I offer highly specialized expertise, a wide range of affordable services.

I'll come up with a sound marketing strategy for your business that's tailored to your needs, and I'll handle it from top to bottom.

Whether you need conversion rate optimization or just want to analyze your site traffic, I am here to provide all the tools and insights that you need to grow your revenue.